Joined

Sep 16, 2017
Posts

413
Qantas

Platinum
I just received a "Qantas Travel Pass" via email for a sort-of-refund. Anyone seen those before, I coulnd't find traces on this forum nor on internet.
I had a domestic classic award J that I had to This corresponds to a domestic Y classic reward refund I initiated on the website 1 month ago.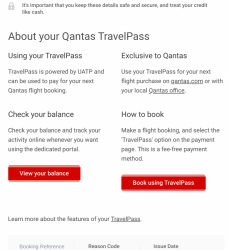 And the T&Cs:
Qantas TravelPass conditionsYour TravelPass is valid until the expiry date shown.

Your TravelPass can only be redeemed on

qantas.com

or through your local

Qantas office

(

booking fees

may apply).

If you don't use your Qantas TravelPass, you can request a refund. You'll need to request the refund prior to using your Qantas TravelPass and before the expiry date. Any remaining value on your TravelPass not used before the expiry date is non-refundable and will be forfeited (except in certain circumstances including under the

Australian Consumer Law

).

Your TravelPass is non-transferable and may not be sold, traded or bartered.

Your TravelPass is non-returnable and may not be redeemed for cash, cheque or credit, except where required by law.

Your TravelPass is issued in the currency as displayed. If you'd like to use your credit for a booking in another currency, you may be charged a currency conversion fee.

Your TravelPass is issued in the name of the person who paid for the original booking and will be emailed to the primary booking contact provided at the time of booking. It's your responsibility to obtain the consent of the person who paid for the original booking to convert your flight booking or Flight Credit to a TravelPass.

Except where prohibited by law, we may, at our discretion for reasons including but not limited to mistaken issuance, fraudulent use or breach of these terms and conditions, cancel, void, reject, modify or reissue a TravelPass.

Your TravelPass will not be accepted as a form of payment if the TravelPass number is invalid or cannot be identified.

Your TravelPass is valuable. It's important to keep these details safe and secure. We're not liable for the loss or theft of a TravelPass or the unintended use of a TravelPass by a person other than the recipient. If you lose your TravelPass details, contact your local

Qantas office

as soon as possible.
Is this a new thing?
Last edited by a moderator: